The photo below, from Fightonstate.com, confirms I was among the media members lurking about at Penn State's Lift for Life last Saturday, where it was almost as impossible to avoid the optimism surrounding the upcoming season as it was the players engaged in one physical test or another.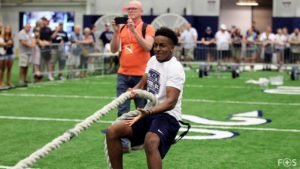 That's no surprise, considering the Nittany Lions have 15 starters back from a team that went 11-3, won the Big Ten championship and lost an epic Rose Bowl to USC, 52-49.
And considering one of those returnees is Saquon Barkley, who on Saturday benched 225 pounds 30 times, equaling the best showing by a running back  at the NFL Scouting Combine earlier this year. (Daniel Jeremiah of NFL.com viewed some video of Barkley from last season and declared that he is "everything you'd want in a modern-day running back.")
And that another is quarterback Trace McSorley, who seems to have a knack for doing the right thing at the right time (his decisive interception against 'SC notwithstanding).
The Lions have also recruited well since the NCAA sanctions were lifted in the wake of the Sandusky scandal, and now have a very deep roster. They would appear to be well-coached – offensive coordinator Joe Moorhead seems particularly adept at getting the most out of the talent available to him – and they are motivated.
"I think we still have the same drive and the same hunger (as last season), but it's deeper now," safety Marcus Allen said on Saturday. "We got a taste of success, and we want more."
Offensive tackle Andrew Nelson said the players have been pushing each other in summer workouts, that the momentum coming off last season is very real.
"I can't tell you how many guys on this team aren't going to settle for anything less than a national championship," he said.
Like everyone else, Nelson understands the team has a proverbial target on its back – "We're not creeping up on people anymore," he said – but the players have approached things accordingly. The offensive and defensive lines joust regularly. Same for the receivers and the defensive backs.
And just last Friday Nelson, a fifth-year senior, was among the older guys who huddled with the freshmen: Ask us anything, they said.
He declined to reveal the specific questions and answers, but believes it was a productive session.
"We were just honest with them," he said. "There's things that are tough. You're going to experience injuries, and you're going to experience failing classes – hopefully not everyone, but that stuff happens – but there's also amazing aspects of being at Penn State."
Nelson, who missed over half of last season with a knee injury, is one of six offensive linemen back with starting experience. He believes the line will be great, the team something more.
"A team really becomes special," he said, "when the coaches don't even have to coach it – when the players take the team over, and the players become the leaders and the players dictate and drive that culture of excellence."
Health is always a concern. So too is the schedule. Among PSU's road games are visits to Ohio State, Michigan State, Iowa and Northwestern, and those first two follow a home date against Michigan in late October.
But it would appear this team is built for the long haul, and its optimism is well-founded.